About ›
Chris Dyer's Biography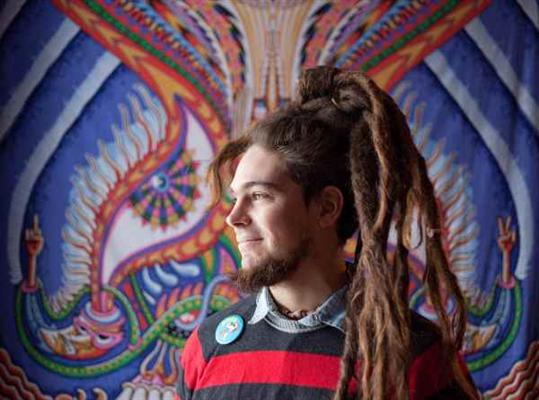 Chris Dyer is a soul with good intentions for his self and humanity. He is a soul on a quest for a higher frequency of consciousnesses, through natural life experiences and practices. He is open to be a medium of the Great Spirit, who attempts to let go of the complications of his ego-mind and be of service to the evolving collective. A student of life in gratitude for all the human experiences given to him.
Chris Dyer grew up in Lima, Peru till age 17, where he was involved in 80's skateboarding, 90's surfing and street gang destructive activities. He eventually moved to Canada to study art for 8 years in different colleges. He ended living in the beautiful french city of Montreal for a couple of decades, but recently relocated to Saint Petersburg, Florida!
Chris also spends lots of time on the road, making and spreading his art worldwide! By now he has been able to reach over 44 different countries, which has given him a chance to learn much from a variety of cultures. These powerful experiences has influenced his eclectic artistic style, which fuses these many cultures into a spiritual oneness. This diverse Unity of his work can appeal to all, yet is owned by none.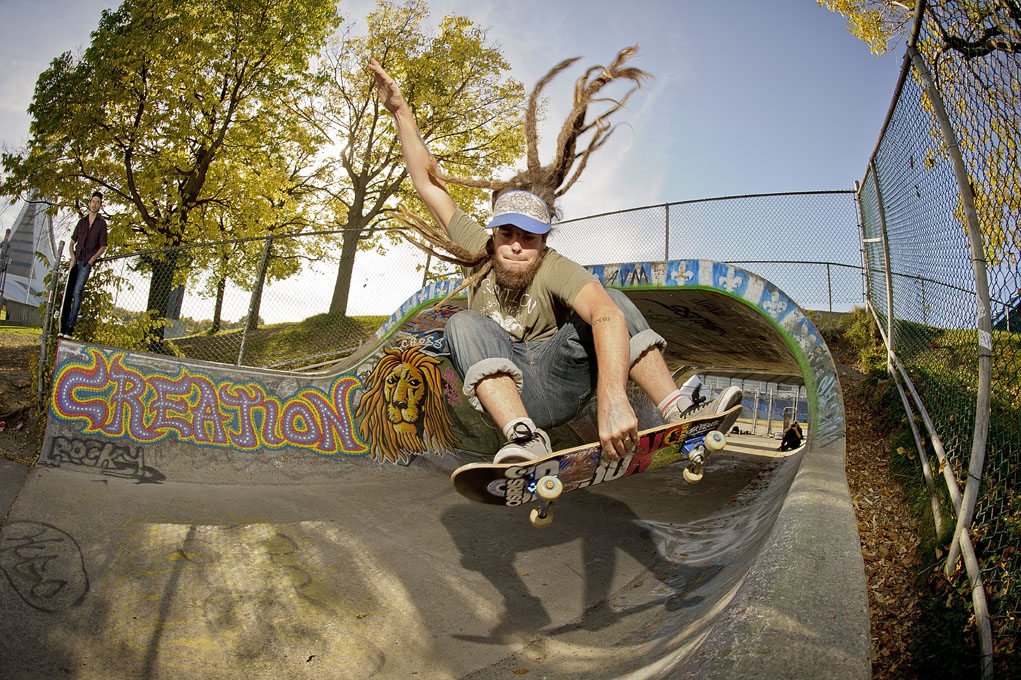 Chris' art is rooted in the skateboard culture he has been part of since a young boy, as early as 1986, when he would draw his own board graphics. By the time he left school he focused on fine art done on broken skateboards, as to give new life to that defeated wood. That eventually led him to working in the California and worldwide skate industry, doing graphics for a variety of well respected brands. More recently, he was Art Director of California's "Creation Skateboards", which he took to the next level with their skate video "Soul Harmonics". These days he continues to do graphics for a bunch of big brands in the industry including Deathwish, Darkstar and Santa Cruz skateboards.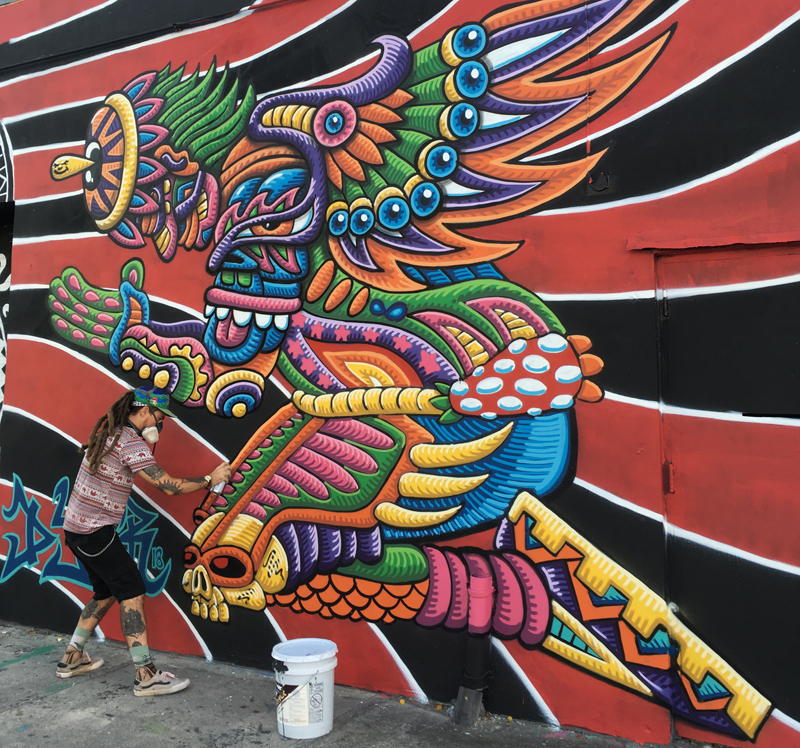 Chris' exploration of inner worlds and ability to juggle mediums, styles and themes has made him stand out in the different art movements he is part of. Because of his unique street style of psychedelic art, and high productivity, Chris has become one of the leading figures of the North American Visionary Art scene. This position has given him the chance to act as a bridge between that spiritual movement and less typically "conscious" art scenes he is part of, like the street art, and skate art movements. Though he appreciates all scenes he is associated with, he wants to break boxes and manifest the "Oneness" he believes is the love consciousness beneath it all.
Though Chris was already tagging as early as 1993, he only started to use spray paint to create murals until 2007. By now he has painted impressive pieces all over the world in places like the "Straat" Museum of Amsterdam, the "Bob Marley Museum" in 9 Mile Jamaica, the "Street Art Museum" in Saint Petersbourg Russia, the "Arte Urbano" museum in Lima, Peru, the "Beatles Ashram" in Rishikesh, India and lots more!!
Because of the quality in Dyer's work, it has already been exhibited in successful solo and group shows in galleries and museums around the world. He has also been featured in many magazines and books worldwide, including his own hardcover coffee table book "Positive Creations" published by "Schiffer Publishing". Two different coloring books for adults have also been released "Last Gasp" Publications.
In 2011 he released a full feature documentary, "Positive Creations", which has reached several thousands and inspired many. A series of travel videos on YouTube  called "The Artventures" followed, which covered the different lands he visits and paints at. His most current video offering is an Artist focused Podcast called "Chris Dyer's Creative Friends".
Chris has also been offering a variety of Art Workshops as he travels the world, in well respected communities like the Canada Art Museum, Alex Grey's Cosm and the Vienna Academy of Visionary Art. He has also offered a variety of art retreats, which sometimes involve deep spiritual healing through natural medicines and shamanic practices. His intention is to empower young artists on their path while helping people on their path of purification!
In 2004 Chris started his own art brand called "Positive Creations", which offers a variety of quality apparel and artsy accessories. These can be found online or at Pop-Up booths at different festivals or events!
Then in 2021 Chris offered the "Galaktic Gang" NFT series, where he sold out 5555 different NFTs of Interdimentional characters! A vibrant community still buzzes together on their Discord and Twitter pages.
All of these decades of offering his soul expressions has really captured the hearts and minds of thousands of resonant souls worldwide. His unique offerings, and honest intentions to help with the evolution of the human race has carved a place in the spiritual shift we are currently witnessing on our planet!
Chris' biggest joy is to make his fans happy and to meet up with them at the different events performs at, so make sure to catch him somewhere and give him a nice hug!