"Healing Visions" Art Workshop in India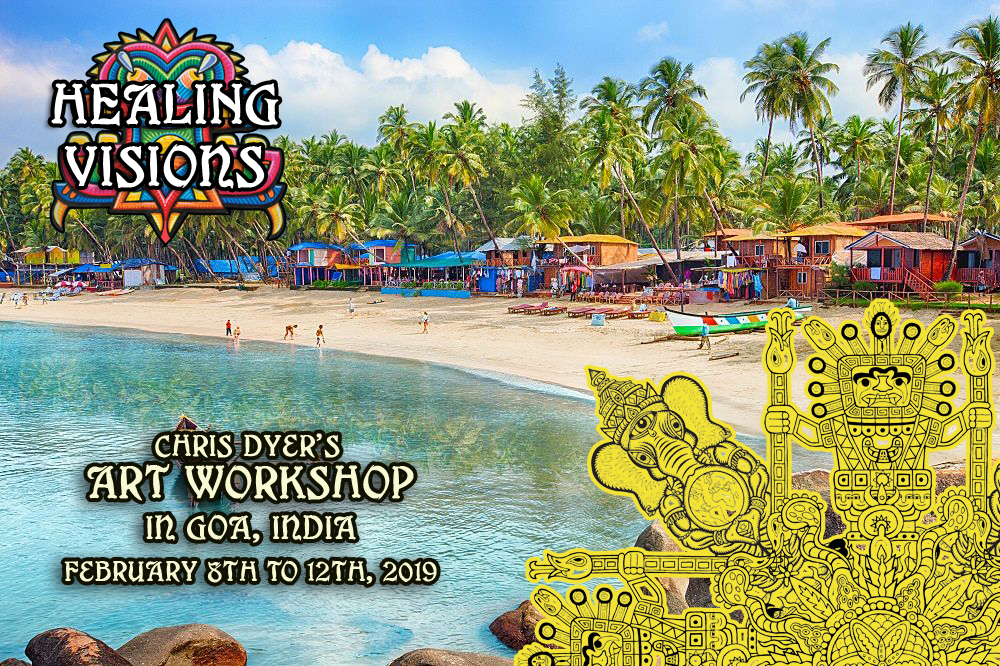 Welcome to Chris Dyer's "Healing Visions" Retreat, which combines art workshops with spiritual ceremonies. This is the first time we offer it in India, and it should be a very special event! Presented by "Visionary Art India"!
Come and join us!
Location: Curlies Resort (Zulu Land), Anjuna Beach, Goa, India
If you'd like to stay there, here is the link: www.curliesgoa.com
Dates: February 8th to 13th
Art Workshop: Painting classes with Canadian/Peruvian Professional Artist Chris Dyer. Includes several speeches on technique, lifestyle and the business of art. Spray painting mural demonstration.
The workshop include:
-One veg or non veg lunch for 5 days
-one canvas per student
-Acrylic paints and brushes , paper for sketching pencils, eraser, sharpner, disposable palette papers, water container from our art box to share among all the students). If you wish to bring your own preferable colours and brushes and your sketchbook you are free to carry it!
Prices:
5 day Art workshop (Includes lunches n art supplies) $500 before January 22nd, and 550$ after January 22nd.
Info n signups at ainhoa.neith@gmail.com or Whassap +39 3891548716
Spiritual Ceremonies: Info n signups via Katariteam@gmail.com
What to Bring: We will provide the art materials (Canvases, brushes paints) but we still recommend you to bring more if you want/can: Sketch book, drawing materials (pencils, sharpener, eraser, permanent markers), paints (preferably acrylics), brushes, or your preferred art materials. Headlamp. Bathing Suit.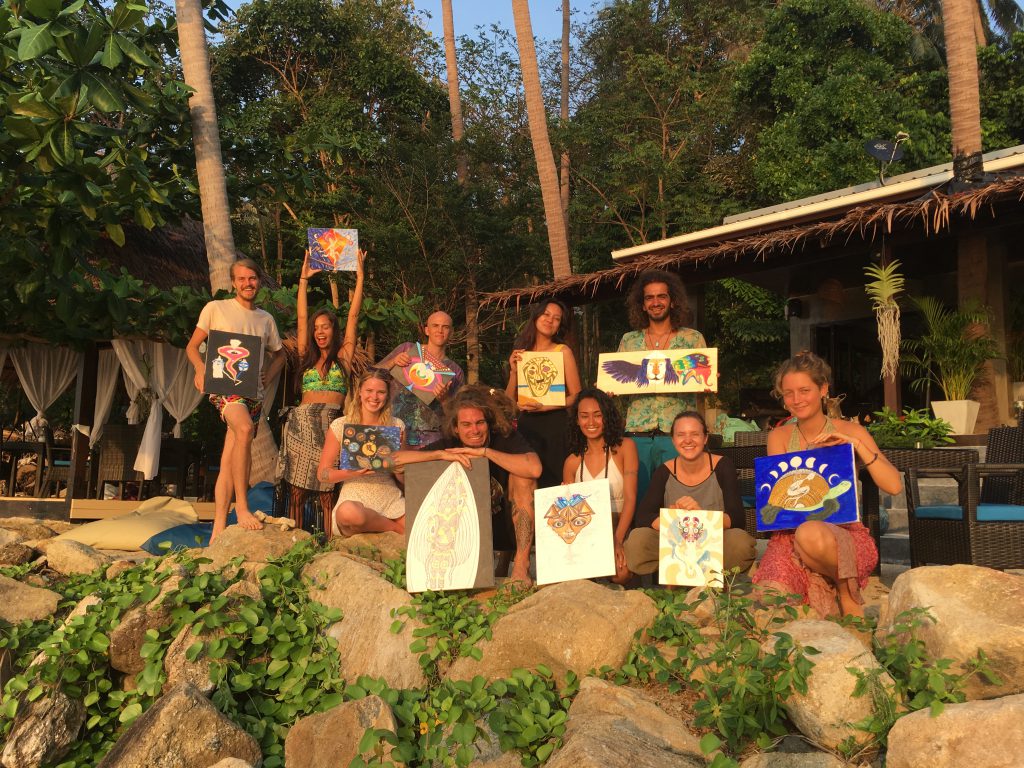 Schedule:
Day 1 (February 8th)
-9am- Opening Ceremony
-10am- First Speech by Chris Dyer
-1pm- Lunch
-2pm- Drawing and painting time.
One on one conversation with Chris about Art n life goals.
-8pm- Intentional Ceremony
Day 2 (February 9th)
-9am- Sharing Circle
-10am- Speech "How to become a better Artist" with Chris Dyer
12am- Art time
1pm- Lunch
-2pm- Painting afternoon
Day 3 (February 10th)
-9am- Chi Gung stretching
-10am- "The Business of Art" with Chris Dyer
-12am- Art time
-1pm- Lunch
-2pm- Painting afternoon
-8pm- Intentional Ceremony

Day 4 (February 11th)
-9am- Sharing Circle
-10am- painting morning
-1pm- Lunch
-2pm- Speech "Visionary Graffiti" by Chris Dyer
-3pm- Spray painting mural demonstration
-4pm- Painting afternoon
Day 5 (February 12th)
-9am- Yoga with Acacia Jade
-10am- Painting Morning
-1pm- Lunch
-2pm- Painting afternoon
-6pm- Class photos and giving of Graduation Certificates
-8pm- Intentional Ceremony
Day 6 (February 13th)
-9am- Sharing circle and Closing Ceremony
-11am- departures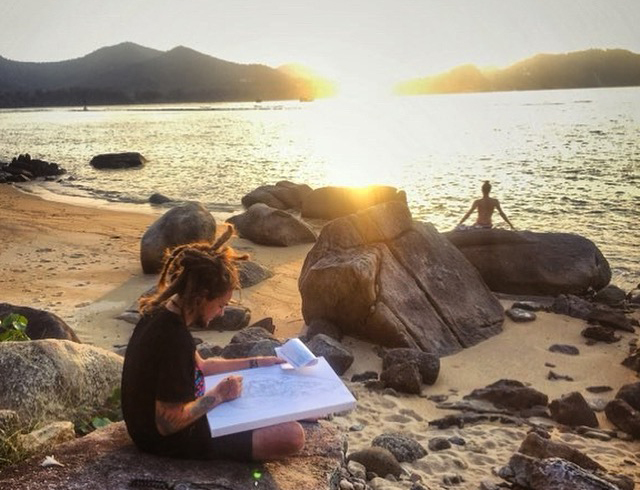 About Chris Dyer :
Chris grew up in Lima, Peru and is now based in Montreal, Canada. He lives off his art and the variety of creative services he provides from paintings, to murals, workshops, graphics, etc. He spends a lot of his time travelling the world spreading his art and brand and is well respected in different art movements as Visionary, street and skate art. He's exhibited his work in galleries and museums worldwide and has 3 published books. He's a nice guy that will be a good friend, teacher and student during the retreat