"Healing Visions" Art & Medicine Retreat in Thailand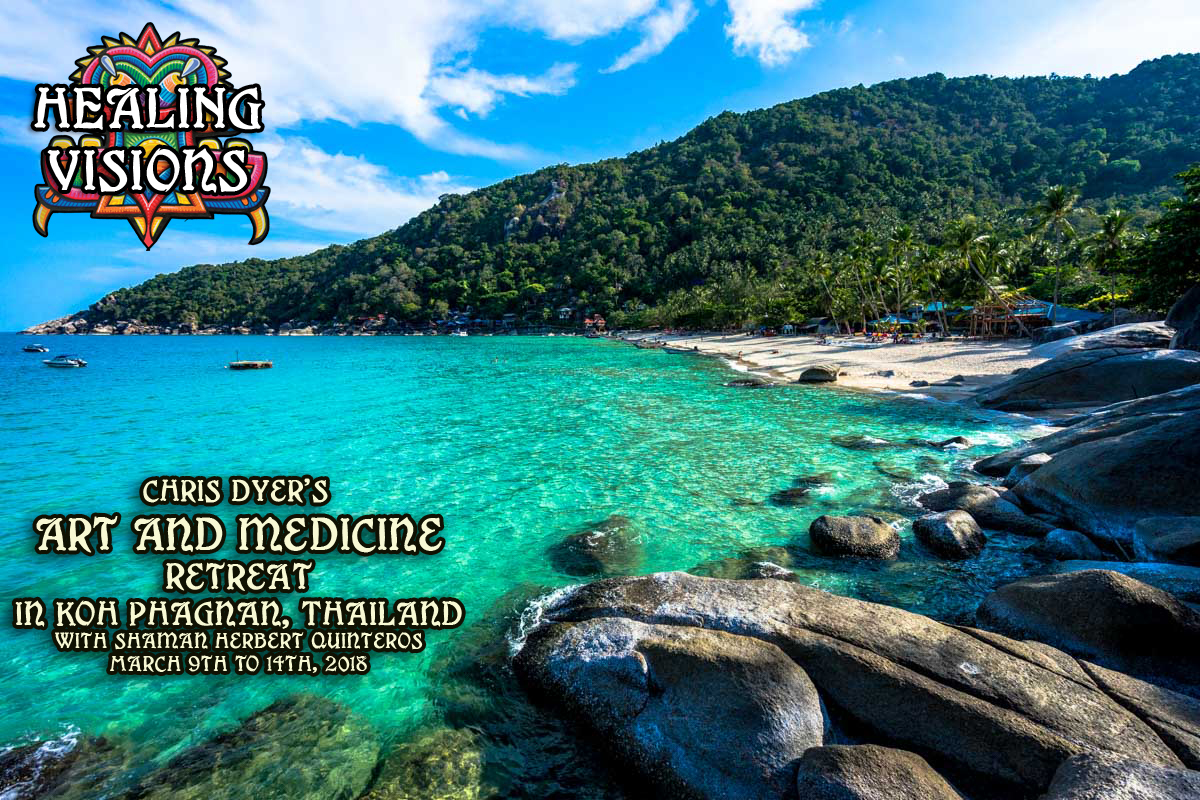 Positive Creations Medicine Retreat in Thailand

Location: Beach resort in Koh Pagnan Island, Thailand (to be announced)
Dates: March 9th to 14th
Art Workshop: Painting classes with Canadian/Peruvian Professional Artist Chris Dyer. Includes several speeches on technique, lifestyle and the business of art. Spray painting mural demonstration.
Medicine: 3 Amazonian Medicine ceremonies with Peruvian Shaman Herbert Quinteros
Price: Full Package (art classes and 3 ceremonies) 1000$
Art classes plus 2 ceremonies 760$
Only Art Classes 300$
Only Ceremonies (x3) 700$
Only 2 ceremonies 460$
Sign Up: Please contact Elena Lozovaya at losantale@mail.ru
Whatssapp: +796-7154-7291
Thai Phone: +66-95-738-1201
Deposit to save your spot is 300$
What to Bring: Sketch book, drawing materials (pencils, sharpener, eraser, permanent markers), paints (preferably acrylics), brushes, or your preferred art materials.
Schedule:
Day 1 (March 9th)
-9am- Opening Ceremony
-10am- First Speech by Chris Dyer
-1pm- Lunch
-2pm- Drawing and painting time.
One on one conversation with Chris about Art n life goals.
-8pm- First Medicine Ceremony
Day 2 (March 10th)
-9am- Sharing Circle
-10am- Speech "How to become a better Artist" with Chris Dyer
12am- Art time
1pm- Lunch
-2pm- Painting afternoon
Day 3 (March 11th)
-9am- Yoga class with Acacia Jade
-10am- "The Business of Art" with Chris Dyer
-12am- Art time
-1pm- Lunch
-2pm- Painting afternoon
-8pm- 2nd Medicine Ceremony

Day 4 (March 12th)
-9am- Sharing Circle
-10am- painting morning
-1pm- Lunch
-2pm- Speech "Visionary Graffiti" by Chris Dyer
-3pm- Spray painting mural demonstration
-4pm- Painting afternoon
Day 5 (March 13th)
-9am- Yoga class with Acacia Jade
-10am- Painting morning
-1pm- Lunch
-2pm- Painting afternoon
-6pm- Class photos and giving of Graduation Certificates
-8pm- 3rd Medicine Ceremony
Day 6 (March 14th)
-9am- Sharing circle and Closing Ceremony in Temple
-11am- departures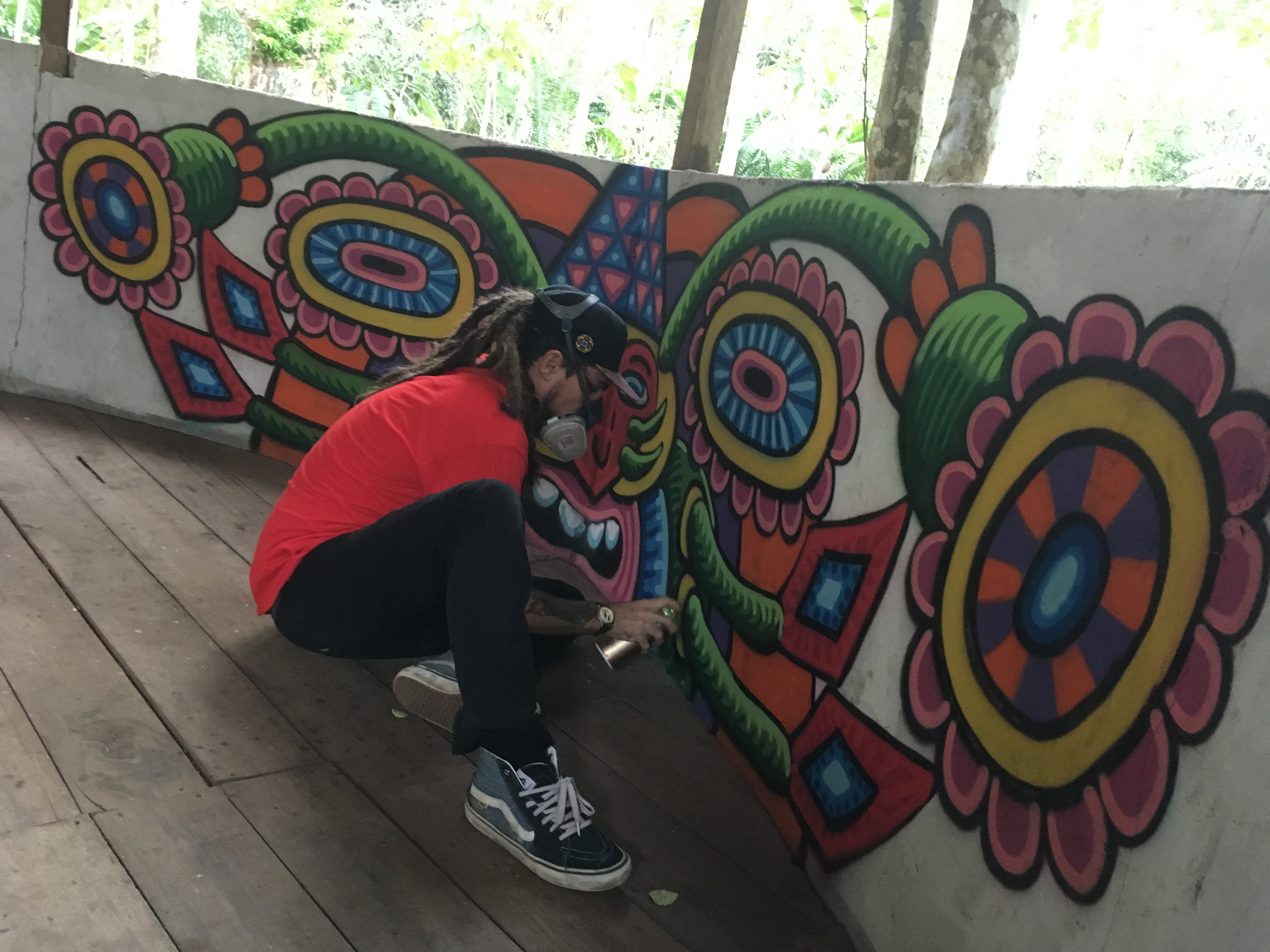 About Chris Dyer :
Chris grew up in Lima, Peru and is now based in Montreal, Canada. He lives off his art and the variety of creative services he provides from paintings, to murals, workshops, graphics, etc. He spends a lot of his time travelling the world spreading his art and brand and is well respected in different art movements as Visionary, street and skate art. He's exhibited his work in galleries and museums worldwide and has 3 published books. He's a nice guy that will be a good friend, teacher and student during the retreat.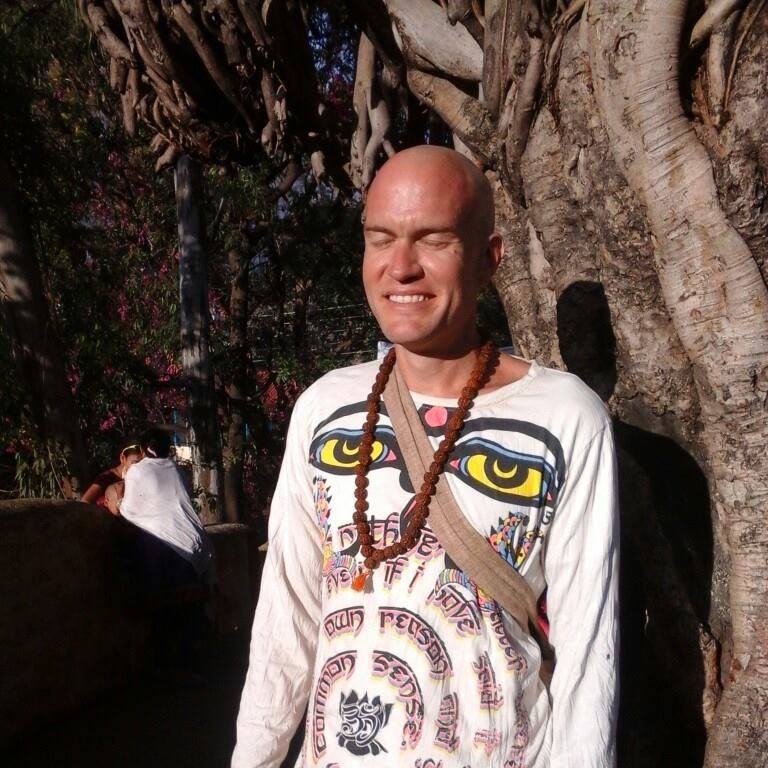 About Shaman Deva
I am an American living in Thailand for the last 15 years.  I have been working with the plant medicines for over 20 years.  My experience particularly with Ayahuasca goes back 4 years. My first ceremonies and teachers were with Huni Kuin tribe in India.  I then made a trip of many months to Bolivia where I joined retreat and studied further with Aymara shaman there in Bolivian Amazon.  I then joined many retreats in Pisaq, Peru with Diego Palma.   Furthermore, I studied with beautiful Shipibo shaman named Delfin just outside of Puccalpa, Peru in the Amazon.  He taught me about holding space for this beautiful sacred medicine and also how to cook it.  I cook my own medicine using pristine waterfall water (from the island) using Shipibo recipe.  I use only genuine plants from the Ecuadorian Amazon: Banisteriopsis Caapi-Yellow Vine (Ayahuasca) plus Pyschotria Viridis (Chacruna).  This is the most depended on and used recipe in the amazon and the resulting medicine is absolutely amazing & extremely healing for both mind & body.  I have been running retreats for these last years since I got back in Pai, Thailand, Ubud, Bali and here on our beloved crystal island of Koh Phangan.
My personal background is that I have been interested in shamanic work since I was very young.  I hope to go to the original home of shamans, Siberia this summer (when it's a bit warmer!).  Funnily enough many of my participants are Russian.  Seems I have some connection to Siberian Shamanism & to Russia!   I have been fascinated by healing work, plants and sound healing for many many years.  I am deeply connected to the natural world and have detailed knowledge of herbal healing plant medicines which can heal the body.  Just a few years ago, I healed myself completely in 4 days from dengue fever using Papaya leaf juice & Andrographis Paniculata (Thai name: Fatalaijon).
I have been working with my voice and opening the energetic body through sound for many years.  I feel that through the voice we can heal ourselves and can see ourselves very clearly so that we can make the changes that we need to make in our lives.  Through opening the voice we open the heart and through opening the heart we open the voice as our voice is our vibration.  My work combines eastern thought with western herbal knowledge and South American plant knowledge.  From the east I incorporate silence & presence with non-dual approach and from the South American plant knowledge the traditions of Ayahuasca.  I have been to India 5 times over the last 8 years spending times in meditation retreat in Ramana Maharishi Ashram as well as staying in Dharamsala where I personally met the Dalai Lama.  I have deep connection with Buddhism and sacred mantras from India as well as Christ Consciousness.  I sing mantras as well as medicine songs & rainbow songs.  I hold space in loving presence with deep sincerity from my heart.  The space is very protected and cared for and I personally guarantee a deeply healing experience in ceremony.  Look forward to meet you in person.